Being involved in a truck accident in Woodland Hills can be devastating. Severe spinal cord injuries, permanent disability, lost wages, and even death are common results. A truck accident doesn't just change the life of the victim. It impacts an entire family. If you or someone you love is involved in a truck accident, you need to immediately meet with a truck accident attorney. This will help protect your legal rights.
How Do Truck Accidents Happen When Their Drivers Are Trained?
Since commercial truck drivers have to undergo special training, how do truck accidents happen in California? The truth is that not all types of commercial trucks must be operated by a driver who has a special license. Regardless of whether the commercial truck driver has a special license to operate the vehicle, truck accidents can and do happen in the Valley.
In California, laws exist that determine just how many hours any truck driver can be behind the wheel. If the truck has the ability to carry one or more passengers, drivers are allowed to be on the road for 10 to 15 straight hours during the day if they received eight hours of rest prior to driving. In the course of seven to eight days, drivers may be behind the wheel of the truck for up to 70 hours.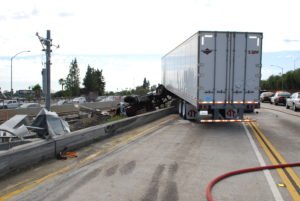 For trucks that carry goods, there is an 11 to 14 hour per day driving limit. To drive for such a long period of time during the day, a driver must first have 10 consecutive hours off duty so that they are rested. Over the course of a week, a driver may be behind the wheel for a total of 70 hours.
Although these laws are important to protect truck drivers and members of the public, drivers are often subjected to unreasonable deadlines by their employer or by the whatever company contracts their services. As a result, drivers often get behind the wheel fatigued and fall asleep behind the wheel or they just can't pay attention to the road because they are too tired.
Another common cause of truck accidents in California are overloaded or improperly loaded trailers. Improperly loaded and overloaded trailers may be subject to the load shifting as the driver speeds up, slows down, stops, or takes a turn. This can cause the driver to lose control of the truck.
Speeding is another common cause of truck accidents and they are often deadly. Because commercial trucks are larger than standard vehicles, they take longer to slow down in the event of someone pulling out in front of them, a sudden traffic jam, a light change, or a hazard in the road. In addition to taking longer to slow down such a massive vehicle, the goods that the truck is carrying also makes it harder to stop.
Common Injuries in California Truck Accidents
Victims of truck accidents in California may suffer from serious injuries including spinal cord injuries, paralysis, broken bones, internal injuries, and traumatic brain injuries. Because of the serious nature of truck accidents, it is imperative that a truck accident victim contacts an attorney with experience in this area. A qualified attorney can help victims get compensation for their injuries, future medical costs, lost wages, and more.
For more information on what to do after you or a loved one has been injured in accident that was not your fault, contact experienced truck accident lawyer Barry P. Goldberg today.