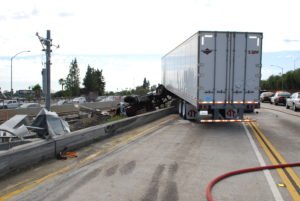 Canoga Park Truck Accident Attorney
After you have been involved in an accident with a big rig or a tractor-trailer, it can be challenging to know what steps to take next. You deserve justice for the harm you have suffered, yet navigating the complexities of the court system can be tricky without the help and guidance of an experienced Canoga Park, California truck accident attorney at your side.
Thankfully, you do not have to navigate any aspect of the legal aftermath of a truck accident alone. Experienced attorney Barry P. Goldberg is here to assist you. Please consider scheduling a consultation with our firm today. As time goes by, your legal options may become increasingly limited. As you prepare for your consultation, you may want to keep a few truck accident "basics" in mind.
What exactly is a "truck accident"?
When we talk about truck accidents, we refer to any road accidents involving a commercial truck. A commercial truck is not a passenger vehicle, but rather a truck used in the line of business and for the transport of goods. This can include delivery trucks, big rigs, 18-wheelers, tanker trucks, and dump trucks, to name a few examples.
How are truck accidents different from regular passenger vehicle accidents?
Due to their sheer size, truck accidents are much more dangerous and can cause particularly significant injuries as compared to any other kind of motor accident. Consider this, a fully loaded 18-wheeler can weigh up to 70,000 pounds, while the average passenger vehicle weighs about 3,000 pounds. When these trucks slam into other vehicles, the damage can be catastrophic. In addition, both truck drivers and the companies they work for may potentially be held accountable for harm sustained. It is partially for this reason that it is so important to consult with a truck accident attorney in Canoga Park, CA before committing to a legal strategy in the wake of an accident. Truck accident cases can be complex and can result in significant financial awards simply because they are often so destructive.
Should I seek medical attention, or do I have to wait?
Please strongly consider consulting a doctor after your accident, even if you do not have any outward symptoms of an injury. Truck accidents can sometimes cause internal injuries, soft tissue injuries and other conditions that may be initially difficult to spot. A quick visit to your doctor can give you peace of mind. Plus, your health and wellbeing comes first, so please do not wait until you have consulted with a Canoga Park, CA truck accident attorney to visit a medical professional.
Federal Safety Standards for Trucks
In addition to state laws, truck drivers and companies must follow strict federal safety standards. These include:
A driver cannot operate a big truck for more than 11 hours per day and 77 hours in a 7-day period. 

Drivers must have a valid CDL

Drivers (or the company) must have a minimum of $750,000 in accident liability insurance coverage. 

Drivers must clearly define their schedule of activity in their log, as well as all maintenance schedules. 
If any of these regulations were not adhered to at the time of the accident, the driver, truck company, or other affiliated parties may be held liable.
The Science Behind Big Rig Accidents
Truck accidents tend to result in catastrophic, if not fatal, injuries. One of the reasons for this is the impact force, or shock delivered between the collision. The force then travels through the body. To determine what this force was, the weight of the vehicle and its speed at the time of the crash is calculated. The greater the speed and/or heavier the object will likely result in much more severe injuries, including:
Herniated or broken back

Soft tissue damage

Spinal cord injuries

Broken bones

Head trauma

Brain trauma

Facial injuries

Internal injuries

Loss of limb

Permanent disability

Death
Surviving a truck accident can make you a very lucky person in one sense. Yet, you could face ongoing pain for years – if not the rest of your life. Your new future might involve ongoing medical treatment, therapy, chronic pain, the inability to work, and more. Your emotional and mental well-being might suffer. All of this is because another party failed to uphold their duty of care. It is critical that you take action by holding that party accountable. Turn to a truck accident attorney in Canoga Park, California for immediate assistance. 
Event Data Recorders in Trucks
Some truck manufacturers install Event Data Recorders, or black boxes, to track the driver's behaviors on the road. Even though they are not yet legally required, they are very common in trucks. After an accident, your Canoga Park, CA truck accident attorney may try to recover the data from these devices. Examples of retrieved data include:
The speed at the time of the accident

When the vehicle accelerated

At what time the brakes were used

What the driving activity was

Whether the driver was using cruise control
Under Federal Law, trucks must be equipped with an Electronic Logging Device. This is not as in-depth as the EDR, but allows companies to track, log, and review the amount of time a driver has been working. These devices help to combat driver fatigue. Both EDRs and ELDs can be used as evidence in a truck accident. 
If you've sustained injuries after a big truck accident, or you've lost a loved one, please do not delay in speaking with a truck accident attorney in Canoga Park, CA. Lawyer, Barry P. Goldberg is ready to listen to what happened, answer your questions, and help you to understand what you should do next.
Legal Assistance Is Available
Please understand that you are not alone. Thousands of Americans are impacted by truck accidents on an annual basis and the law related to victim compensation has been fairly settled for some time. As a result, working with an attorney is often a far less stressful process than you might imagine. And at the end of the claims process, you may be able to receive a significant amount of financial compensation tied to the harm you have suffered. Call a Canoga Park, CA truck accident attorney's office to schedule a consultation today so that we can learn more about your situation and advise you of your legal options.