Canoga Park Truck Accident Attorney Discusses Truck Accidents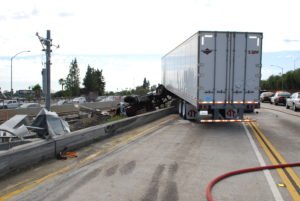 According to the Federal Motor Carrier Safety Administration, nearly 5,000 large trucks and buses were involved in fatal crashes in the U.S. during 2017 alone. During that single year, an additional 116,000 large truck and bus crashes that resulted in injuries occurred on American highways and surface streets. If you have recently been involved in a serious truck crash, please know that you are not alone. Literally tens of thousands of Americans are affected by injurious truck crashes on an annual basis. This means that collisions like the one you were involved in happen every single day. The fact that truck crashes are so common is tragic. But because they are so common, firms like Barry P. Goldberg, A Professional Law Corporation have extensive experience navigating the legal aftermath of crashes like these. Please know that if you have been injured in a truck accident, you are not alone. You can contact an experienced Canoga Park truck accident attorney for help right now.

Truck Accidents Are Common and Often Catastrophic

One of the primary reasons why it is so important to seek legal guidance from an experienced Canoga Park truck accident attorney as soon as you can after a collision has occurred involves the long-term recovery process often associated with truck accident injuries. Because trucks are massive machines, they tend to inflict an extraordinary amount of damage during a collision. Recovering from injuries sustained during a truck accident tends to take time and significant financial resources. Holding responsible parties accountable for the harm you have suffered may help to ensure that you can focus on healing while maintaining access to the medical treatment you need now and may need well into the future. Truck accidents may be catastrophic, but you do not necessarily need to shoulder the burden of the harm you have suffered without the benefit of any compensation you may be entitled to.

Legal Guidance Is Available

If you have recently been injured in a truck accident, please contact an experienced Canoga Park, California truck accident attorney as soon as you have obtained necessary medical treatment. It is important to act quickly, as your legal options may become more limited with time. Evidence can become lost or compromised in a matter of minutes, so the more quickly you connect with a Canoga Park truck accident attorney, the more quickly our firm can begin working earnestly on your behalf. Please note that consultations are risk-free. This means that if you ultimately decide that filing a legal claim is not in your best interest right now, that is absolutely fine. Scheduling a consultation simply means that you will be able to have your questions answered so that you can make an informed decision about your legal situation moving forward. Please don't wait, even if you are unsure if legal action is right for you. Call now in order to preserve your options, no matter what you ultimately decide is the best course of action for you and your family. We look forward to speaking with you. 

Canoga Park Truck Accident Attorney Discusses Truck Accidents

Passenger vehicle drivers often meet with our truck accident lawyers from Barry P. Goldberg, A Law Corporation to receive a claim evaluation for their injuries. We know Canoga Park truck accident victims need someone to advocate them in these cases to ensure they receive a fair and just settlement.
Due to commercial truck drivers possibly carrying hundreds of pounds of inventory at the time of an accident, we understand the amount of physical and financial loss a passenger driver may experience. Commercial truck drivers do not always drive as safe as they should when next to a significantly smaller passenger vehicle while on the road.
Most commonly, a commercial truck driver can cause a Canoga Park crash due to the following:
Not taking into consideration the expansive blind spots at the end of a truck bed where a passenger car may be driving

Not judging the space at an intersection correctly and making a left turn while a car is also making a left turn in the next lane, resulting in the car getting squished

Changing lanes too quickly to get right in front of a car

Not merging properly into traffic, which results in a car trying to brake or swerve quickly out of the way

Not slowing down or accelerating appropriately during lane changes or merging

Not passing safely, particularly when there is not enough headway

Pulling into a roadway ahead of a passenger car without speeding up sufficiently

Abandonment of a truck that is still in a highway lane after the accident, failing to get it to a proper place completely onto the shoulder

Passing a car too quickly, resulting in the driver being blown due to crosswind or air turbulence

Sometimes, when a truck accident occurs, there are many passenger cars involved. The case can get complex very quickly, so a truck accident lawyer from Barry P. Goldberg, A Law Corporation can weave through all the details and ensure your injuries are being proven in court.
You should seek medical attention immediately after a crash, as injuries may not show themselves right away. When our adrenaline rushes and or flight or fight response kicks in, it may hide the pain of injury until for hours or even days.
It is rare that a jury will conclude the case due to a single detail and will evaluate all the proof to determine who is at fault. A truck accident lawyer from Barry P. Goldberg, A Law Corporation will work diligently to ensure the case moves in your favor and you receive all necessary financial restitution. We may talk with your doctor about how long your injuries are expected to take to fully recover and can do a meticulous evaluation of the accident scene. Not only can you get compensation for medical bills and lost wages, but pain and suffering reprisal as well.
If you have been injured in a Canoga Park car crash, you may want to consider speaking with a Canoga Park truck accident attorney from Barry P. Goldberg, A Law Corporation. We can discuss the details of your case and how we may be able to help. Call to set up a free case evaluation. Someone is available 24/7 to take your call.